Ulwazi Rock Lodge
Self-Catering Accommodation
Hazyview, Mpumalanga, South Africa
Our Rates - from 01 Mar 2021
R5,400 per night, sleeping 1-12 people Max 14 extra 2 at a cost.
Breakage Fee
A damages/breakage deposit of R1500 per booking over and above reservation fee. The deposit will be refunded on departure less any deductions necessary.
Check In and Out times
Check in from 15h00 to 18h00. Late arrival by arrangement only.
Check out from 06h00 to 10h00 (Strictly adhered to)
Current Specials
No specials currently available

Cancellation Policy
Full refund for cancellations made within 48 hours of booking, if the check-in date is at least 14 days away. 50% refund for cancellations made at least 7 days before check-in. No refunds for cancellations made within 7 days of check-in. (Negotiable)
Accommodation fees (the total nightly rate you're charged) are refundable in certain circumstances as outlined below.

If there is a complaint from either party, notice must be given to Management within 24 hours of check-in.

Management will mediate when necessary, and has the final say in all disputes.

A reservation is officially cancelled when the guest clicks the cancellation button on the cancellation confirmation page

Cancellation policies may be superseded by the Guest Refund Policy, extenuating circumstances, or cancellations by Ulwazi for any other reason permitted under the Policies of Ulwazi.

14 days prior - 48 hours after booking Example
For a full refund of the nightly rate, the guest must cancel at least 14 full days before the listing's local check-in time (shown in the confirmation email). The service fee will not be refunded unless the guest cancels within the free cancellation period for their reservation.

7 days prior - 3:00 PM Example
For a 50% refund of the nightly rate, the guest must cancel 7 full days before the listing's local check in time (shown in the confirmation email), otherwise no refund.

Early Departure Late Cancellations
If the guest cancels less than 7 days in advance or decides to leave early after check-in, the nights not spent are not refunded.

Why Stay at Ulwazi Rock Lodge?
The lodge is perfect for large families, a group of friends or a team building business event who are looking for a peaceful getaway.

The well equipped and spacious lodge offers two lounges, two dining rooms, a superbly equipped kitchen, four comfortable en suite rooms and a unique indoor swimming pool.
The lodge has large open wooden decks with built in Jetmaster braai facilities and offers amazing views of the farm and the Kiepersol area.
The staff are helpful and friendly, they will do their best to accommodate you and fulfil any needs you might have during your stay.

The lodge is the perfect base for enjoying the Lowveld and the Kruger National Park. Restaurants, shopping centres, adventure activities and attractions are close by.
The lodge is extremely affordable and offers exceptional value for money.
Bring your Mountain Bike and Fishing Rod and enjoy a cycle through the Macadamia plantation or try your luck at catching a fish in the nearby dam.
The farm is also ideal for morning or afternoon walks to enjoy the fresh farm air and beautiful scenery.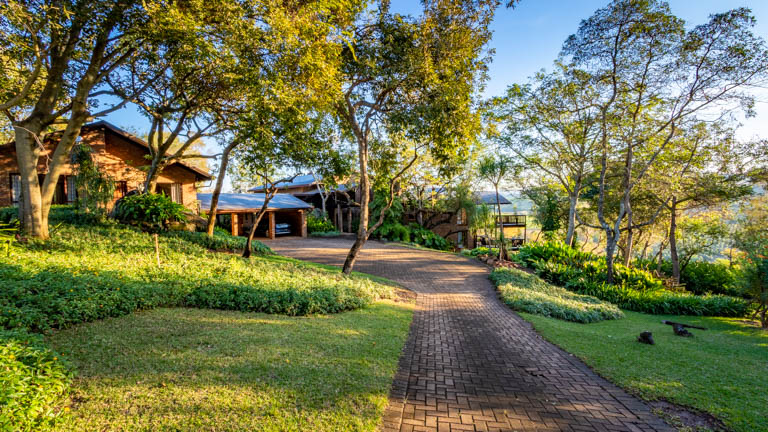 Awards
Uwazi Rock Lodge has received an award from Bookings.com in 2017 and 2018 for their excellent accommodation offerings. They are also one of the top picks for accommodation in Hazyview. Afristay has also awarded Ulwazi with a certificate of excellence and an award for top value establishment in Hazyview.
What People Say
"Though we only spent one night, we found the place accommodating and the staff eager to assist. We would definitely stay here again" - Bob via Afristay.
"We loved absolutely everything. It was very different to the normal run of the mill accommodation you get for this price. It was a bit of luxury at a price to fit most pockets. The staff are so kind and friendly and nothing is too much. I just wish we had booked for longer." - Melanie via Booking.com
"Amazing hosts, amazing property & wonderful hospitality. I wish to express My heartfelt gratitude... wish we could have stayed for a longer duration." - Anubhav via Booking.com.
"I travelled with friends for a weekend away; the house is beautiful with a perfect view. Very friendly staff. We enjoyed our stay, especially the pool inside the house, the best." - Zizipho via Afristay.
"Beautiful house very spacious. Stunning views. It's situated in a farm and has a very tranquil atmosphere. Perfect for 3 families, excellent service and very helpful staff. Enjoyed our stay will definitely be going back." - Davis via Afristay.